Brian Moss Art - Colorful Improvisational Ink Art, Liquid Lights & Nonsense
Explore the colorful pen and ink paintings, symmetrical fractals, photos of liquid lights, and fluid artwork by Brian Moss
ℹ️
The first in a new series, based on years of actual events. Nov. — Dec., 2018 (unfinished?). 20" x 30", pen & ink, a touch of acrylic, oil, various household chemicals namely aerosol air freshner, 99.99% pure isopropyl alcohol, rain-x, mineral oil, silicone oil.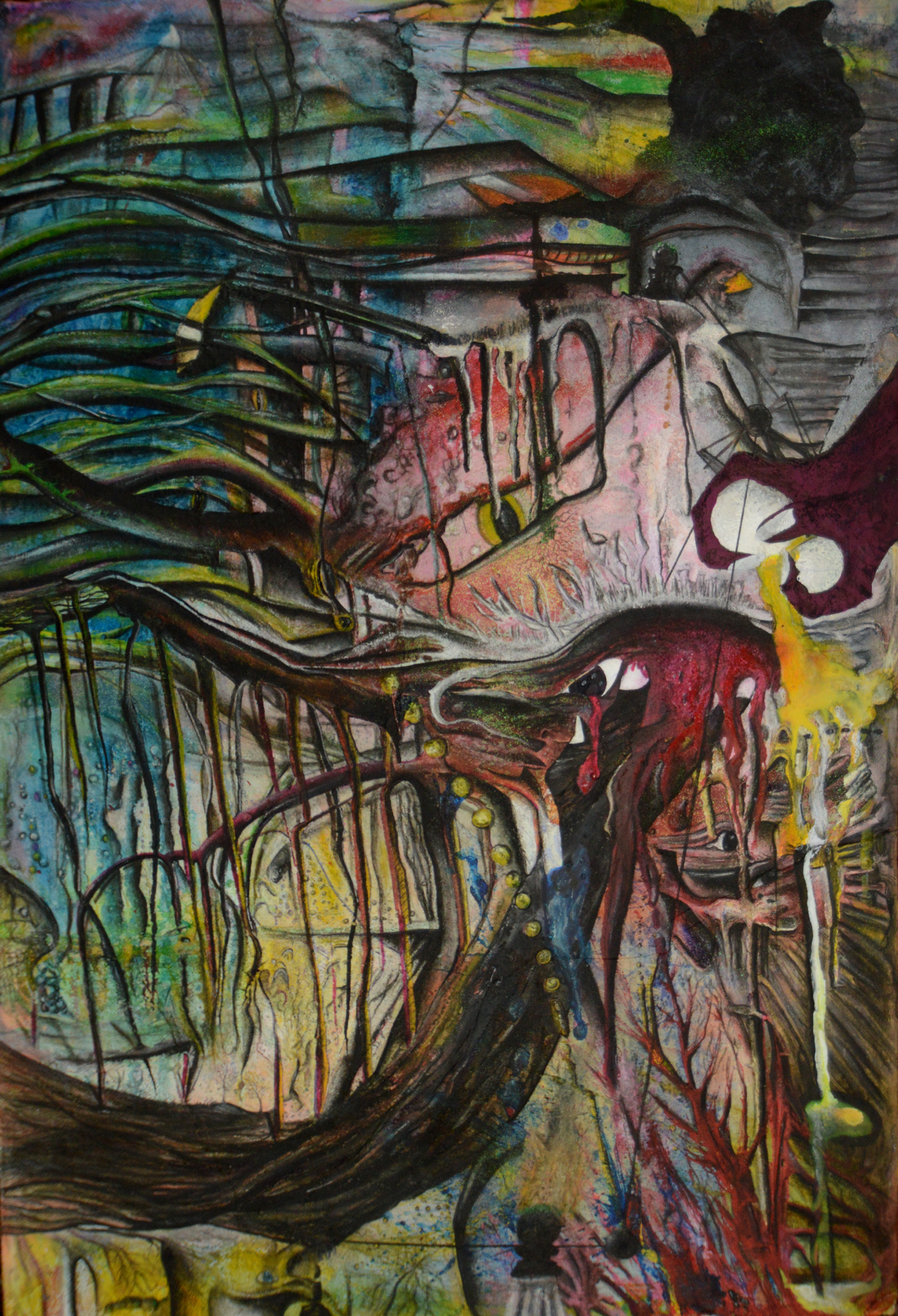 selected pen & ink work (2011 - 2014)
COLORDRIPPER ― POCKET SIZE EYE-CANDY FOR DAYDREAMERS ON THE GO
A perfect stimming art piece for decompressing from dumb work meetings & life
Order your favorite colors right this second (no sales pressure)
I launched the Colordripper on February 14th, 2017 because I figured that's a good date. Since then, the basic formula has had 1 major pivot, and in 2018 I have found even finer glitter and brighter, more vibrant retina-pleasing inks
With exceptions, they mostly appeal to people with sensory issues, or folks on the autism spectrum who are distracted easily by moving colors or lava-like lamps (they know I love them as much as I ramble, since I am so crazy about the late 60's counterculture art movement)
That limited demographic appeal is what keeps them close to home, so it's a nice marriage. Plus, if I sell too many it will become monotonous
12" RESIN & EPOXY SQUARES
ℹ️
Inspired by the liquid paintings I was working on, I made about a dozen of these as an idea I'll have to expand on. I think I got most of my rhymes out of my system for now, maybe not. Most of these pieces have an opaque background that let shine through making them "pop"
You can't see it. Picture it. The presentation doesn't look great. I need a cnc machine. I need to find a semi-translucent material so you can look through them as a viewer, with the obfuscated world as a background, cropped, I have experimented with a lot of material but I am not good at what I am doing yet. The clock doesn't stop for any of us I tell myself as I continue to procrastinate
If I can space a place in between, using a mirrored background behind a gap it looks interesting & odd. If the colors are transparent enough, it becomes surreal with light shining back through its top

Imagine a subtle shadow of the image you see, projecting back into your handheld abstracted snapshot, so you are seeing a subtle double of the top layer as the line traverses the textured layer of plexiglass and back into itself, distorted worse than a misshaped prism. Ideas aren't worth a thing. That is what they say in business school, probably
it's like the opposite of a keleidoscope, a mixed media juxtaposition of layered colors and intentionally distressing the light beams by stressing the middle layer of material with chemistry or something smart like etching. just trying to push back against the boundaries of the canvas a bit, a viewfinder, an art piece
2 dimensional images won't capture this non-interactive desktop Pollock-esque epoxy illusion block

1 inch + is how thick they should be, a slab of marbled pieces of plastic layers brainwashed into an unskewered kabob


3 different things playing about, depending on your perspective. I don't have the tools, or experience, or material budget yet
I've got ideas for days but no market to sell my wares. Nobody cares
to do some of the ideas in my crockpot
still can't fire myself from my nine to five, but I am making steady progress
The one on the top, 2nd from left is like 5 layers deeper than a sock sweatshop, each filled with tiny larger-than-microscopic microbeads and iridescent flakes that glint and gleam glare in the facade. Each of these has a lot of depth, but I am not that happy with the presentation so I gave them away or have them around
INTERPRETATIVE DEPICTIONS INSPIRED BY RHYMES
ℹ️
| | |
| --- | --- |
| | All Along the watchtower (dylan) |
(sponsored) TRAVEL VICARIOUSLY THROUGH POSTCARDS
As communication becomes exponentially digital, people appreciate it when we make the effort to snail-mail an analog message
I have 100+ eco-friendly postcards available with plenty of whitespace on the back. At 4" x 6" postal regulation size, they can be mailed anywhere in the world for relatively little. Heck, you don't even have to use them for mailing
This growing line of art stationery perfectly captures the vibrancy in my paintings. And they are printed on paper that feels as good as it looks. But don't take my word. Review hundreds of reviews on Etsy
4" x 6" fine art postcards

ideal for stationery or for mailing

professionally printed on 14 pt cardstock

50% post consumer recycled waste

vibrant colors, smudge free finish

buy direct at wholesale prices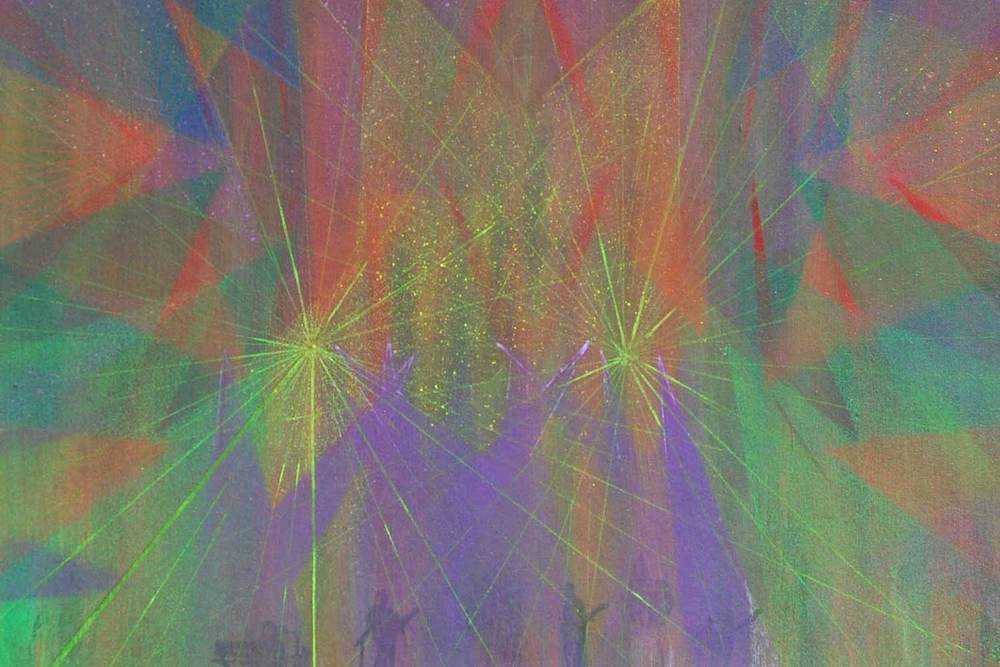 ℹ️
One of these days if I find the time, I have a vision for this half delayed project that involves spray paint, lots of compressed air, and a twist on the "live" part of live painting. I want to do a series of speed airbrush paintings, capturing the colors on the lights in (somewhat) real time, blocking out simple triangles all within a short 2 hour window or however long the band even plays for. If I am short on time I can recruit random people to help me apply paint. Just a quick raw burst, a moment captured in time before machines take over and tell us which art we can enjoy. Art is a feeling not a meaning, at least according to that coldplay guy. These are rough sketches, not paintings. This is an idea, this isn't a series of paintings that will be hanging in some fancy museum, I like the unfinished look but I will add more detail and put more effort into them now that I have space to paint my heart out. Airbrushing is super loud, the compressor. What I want to do is get a big tank of co2, like welders have, and take that to a fest and use compressed air to move paint around for several days. That's one idea, you can borrow that idea
ℹ️
When I am into it, I like to mashup digital stuff. These works and rough ideas are created from scratch, or are rearrangements of my own work or pictures. I just break apart an image or rework it, I don't know. Occasionally I also incorporate photographs that are public domain, or have a creative commons attached (in which case, the source would be noted)
All of my "fractals" are released under a 4.0 attribution-noncommercial creative commons. This means you can download, share, remix, adapt, or reuse them as you see fit, with my explicit permission, provided you credit me as the original source AND do not generate revenue directly from my work. School project? Perfectly okay. Looking for artwork for your album or other project? If you aren't in a mob, you can use my art see if I care. I am open to licensing my work for most anything, provided it's not violent, sexual, or derogatory. If you need custom imagery or want to use something I have created for some thing, let's chat. If you are using it for non-commercial purposes, right-click save as ....
View a grid of the past 30 or sort by reverse chronological or start in mismatched order. My webhost (whom I love) has arbitrary restrictions on what I can do, but I am figuring out a way to hack together a nicer visual presentatio of this series
LIQUID dot LIGHTING & Fluid Art
That's my crazy wacky hodgepodge homepage. Website visitors rarely explore and just scroll through text if there looks to be too much, so I thought I would throw different stuff up instead of trying to curate nice little sections. I'm just winging everything